Here we have a listing of show locations and times!!
Come out and play with us, A GOOD time will be had by all!!


!!!NOTICE!!! It's almost APRIL again, and that means the B-Day Boys are gearing up for an April FULL of Parties!!!!
JUNE 2002
Private Parties are the Greatest!
The Memorial Day Party at Angel's and Roadkills place was an outstanding 9 hours of song and fun!!
Jennifer brought a fantastic bottle of 1800 Cuervo, so you know she was Roadkill's favorite person, she also brought a bottle of Rose's Lime juice to mix the 1800 with, a surprisingly wonderful mixture, it must have been as Roadkill drank 1/2 the bottle himself with the Juice.
Angel managed to find a new song, or actually a new variation of one of his regular songs, Diamond Dave kept the music rolling and everyone seemed to enjoy the Burgers, Hotdogs and Chicken, and even though the Hosts state they thought that there was plenty to drink, the guests managed to empty every bottle of alcoholic beverage in the house. So yes, it was a great Party!!
July 1st 2001, Dave's Backyard Bar-B-Q and Karaoke Party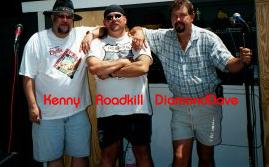 This outdoor event was lead by none other than Diamond Dave himself,and Followed By Kenny, Roadkill, and Officer Mitchell.
There was some exellent chicken to be munched on and not to mention the Ice Cold ICEHOUSE BEER!!

This reviewer was blown away by all the energy!!
_________________________________________________________

Don't forget that it is never too early to Book a Private party for either your home or business.
_________________________________________________________